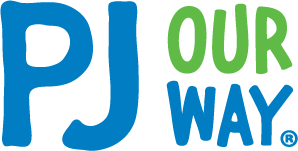 kid
parent
You're now in Kid Mode Parent Mode
PJ Our Way, the next chapter of PJ Library, offers the gift of exceptional books with Jewish themes to kids ages 9-12 – books that they choose themselves!
Every month, kids can visit www.pjourway.org to pick one book from a selection of four high-quality titles. That means PJ Our Way's Book Selection Committee chooses 48 middle-grade books every year … and you can help us achieve this goal!
We're always on the lookout for great titles appropriate for kids ages 9-12 to include in our lineup. If you are interested in submitting a manuscript to the PJ Our Way Book Selection Committee for consideration, check out our website to get an idea of the type of books we offer, and read the PJ Our Way Content Framework to understand our guidelines.
Our committee assesses submissions using the following guidelines:
The book should reflect historical Jewish life, contemporary Jewish life, or some valuable aspect of Jewish experience.
We look for strong Jewish characters and content, where Jewish identity plays a positive role, but we want the Jewish content to be natural; we don't want to be all message and no story!
The content needs to be age appropriate. We avoid content that might make tweens or their parents uncomfortable, which means no alcohol or drugs, no bad language, and any romance needs to be very innocent.
We prefer to avoid books about the Holocaust. We do occasionally include a book that touches on aspects of the subject, like Now and Black Radishes. Please do not submit a book with any graphic material or one that is set in the camps or ghettos. We are more likely to consider second generation or refugee stories with a hopeful message.
PJ Our Way accept submissions via Submittable only. Due to the high volume of submissions, we can provide feedback only to those authors whose work will be discussed further. Expected responses may take up to six months. We encourage authors to submit to publishers, agents, and other opportunities while their work is under review. We regret that we are unable to answer queries regarding the status of a submission.