Hanukkah in August?!
How fun would it be to wake up at summer camp and find out you were celebrating Hanukkah?! Campers at URJ Crane Lake and Eisner Camps celebrated Hanukkah in August this year to connect with
Penina Levine is a Potato Pancake
. Like Penina, campers made paper snowflakes and used them as thank you and get well cards.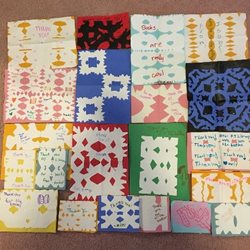 For a fun Hanukkah
activity
, make paper snowflakes and glue them to construction paper to make cards. They can be Hanukkah cards for your family, thank you cards for your teachers, get well cards, or another creative choice of your own! Comment below to tell us what kind of cards you make!