Welcome! We're excited to offer a limited-time opportunity to borrow PJ Our Way audiobooks. Check out this month's titles, including Detour Ahead, a PJ Library Publishing book, which can only be found here! Then keep reading below for all you need to know to get started.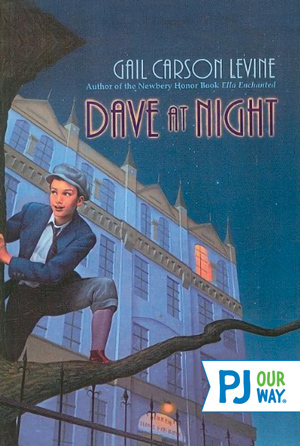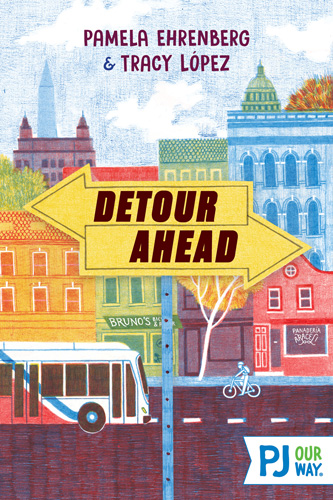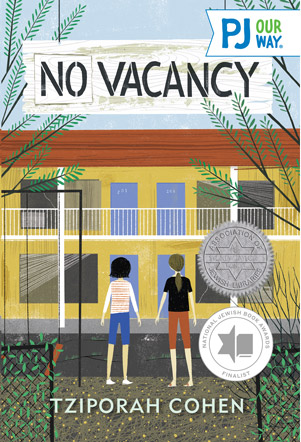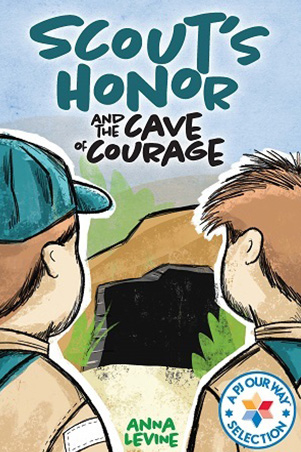 Click on each cover to learn more about the books!
Why is PJ Our Way creating an audiobook library?

After collecting both convincing research and significant feedback, PJ Our Way wants to allow families an opportunity to explore the program's books in a new way. Research shows that audiobooks allow children with varying reading abilities to gain equal access to stories, concepts, and vocabulary that would otherwise be closed off to them. Additionally, parents and subscribers have shared how eager they are to try PJ Our Way audiobooks. We also know that these stories are a great way for kids and their families to spend time listening together, either during a long drive or at home.

What is the audiobook library?

Go to pjourway.overdrive.com and sign in using the parent email address associated with your child's subscription. The site includes instructions for listening to an audiobook on your web browser as well as links for downloading the Libby app for mobile devices. To listen to a book, simply select one and check it out. When you're finished with that audiobook, return it so you can borrow another one. You may only borrow one title at a time (even if you have more than one subscriber in your home), but there is no limit on how many times you can download each title. Not sure which one to choose? You can sample a title first to make sure it's the one you really want to borrow.

For our 2022 pilot, we are offering a variety of titles we know your kids will enjoy! Every two months, we will add two books to the audiobook library for you to enjoy. From April 2022 - February 2023 we will be offering the following audiobooks:
Dave at Night by Gail Carson Levine
Detour Ahead by Pamela Ehrenberg & Tracy López
Doughnut King by Jessie Janowitz
Benny Feldman's All Star Klezmer Band by Allison & Wayne Marks
Sidetracked by Diana Harmon Asher
How I Became a Spy by Deborah Hopkinson
Seventh Handmaiden by Judith Pransky
The Doughnut Fix by Jessie Janowitz
Scout's Honor and the Cave of Courage by Anna Levine
No Vacancy by Tziporah Cohen
How can I access it?
See our step-by-step guide: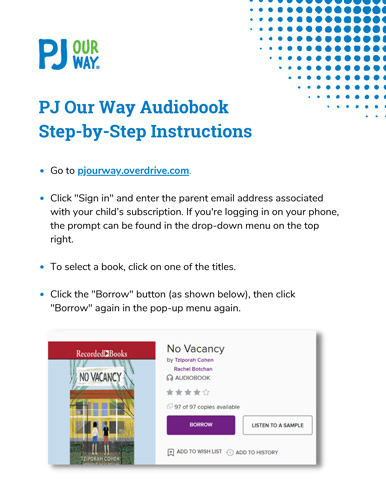 Tips for using the Libby app
Check out the links to learn more about each title, and encourage your listeners to leave comments on the PJ Our Way website!

Is the audiobook library a permanent addition to PJ Our Way?

Not yet. We are currently testing the PJ Our Way audiobook library to see how much interest there is in audiobooks. Because this is a pilot, these books are only available for a limited time and in limited quantities. If demand is high, we will strongly consider making the audiobook library permanent.

Can we listen to an audiobook on more than one device?

Yes, you can. Just log in to your account to listen on a browser and/or download the Libby app to each mobile device you want to use. Your family can only listen to one title at a time.

How long can we borrow an audiobook for?

Once you borrow a book, you have access to it for three weeks. If you don't finish your audiobook during that time, you can always check it out again. PJ Our Way audiobooks will be available through February 28, 2023.

Click here for help with any issues with the audiobook library.

Happy listening!