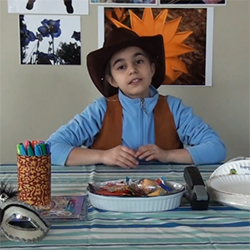 The PJ Our Way Content Team Shares Their Favorite Ways to Celebrate Purim
Want to host a Purim get-together with your community? Take a cue from the PJ Our Way content team and have fun telling the story of brave queen Esther, making gift baskets, mishloach manot, to share with others, or baking tons of hamantaschen.
The PJ Our Way Content Team members made videos showcasing their favorite Purim traditions: sharing the story of Purim and dressing up, making gift baskets or mishloach manot, and of course, baking lots of hamantaschen.
TELL THE STORY

Ellery and her friends dressed up and created their very own purimspiel, or play. Watch it to learn the story of Queen Esther.


Jeremy used his toys, building skills, and some creative video editing, to make a creative, kid-friendly, Purim story video.

SHARE AND CELEBRATE WITH OTHERS

There are four mitzvot or commandments associated with Purim. Hanah breaks each one down.


Nathalie puts together a mishloach manot or Purim gift basket.


Hettie tells us all about visiting Israel for Purim and the special celebrations she shared with her friends there.


Rylee gives a quick overview of what Purim is all about.


Like most kids, Michael loves hitting up the Purim carnival, baking hamantaschen, and booing at Haman. But he also shows off a charitable way to shake your grogger this Purim.

BAKE (AND EAT) HAMANTASCHEN

Watch Ayden roll out a hamantaschen in stop motion style:


Bella makes her favorite hamantaschen from The Jewish Holidays Cookbook and shows off how easy it is for kids to take charge in the kitchen.


Joseph makes a creative Purim cookie.


Sophie bakes up a batch of cookies with a crunchy surprise in the middle.