PJOW books travel to Israel!
The Harold Grinspoon Foundation generously donated copies of
Looking for Me
to the Keshet School in Jerusalem! Einav, an Israeli who is learning English, was inspired to write a poem about her family after reading the poems in the book.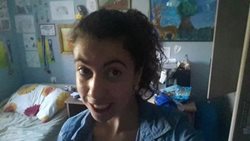 My family
In my family there are five people.
I'll start with my Dad who probably knows everything!
Every time I ask him a question,
he can answer it perfectly!
Then Mom, who works out of town,
she really works all the time!
but she still finds time to be at home, and play with me.
Then there's Nitzan, my older sister,
every time we're together, we're having fun,
we run and laugh and see cartoons.
And Tomer, who is really a genius!
He is a policeman in the army
He has two guns, big and small
and he knows everything, for sure!
And then me, Einav,
I play on a piano, participate in the scouts, and love acting.
I'm the little one in the family
and that's all.
Einav's Challenge: Write a poem about your family!