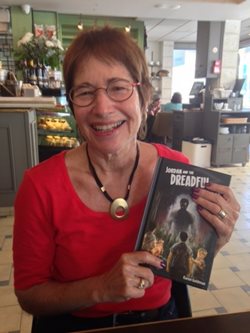 Author Interview with Karen Goldman
Have you ever thought about how authors get their book ideas?
Local Dallas Design Team member Sydney G. had the opportunity to interview author Karen Goldman, who wrote
Jordan and the Dreadful Golem
.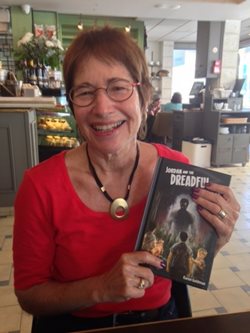 What inspired you to write this book?
I began writing
Jordan and the Dreadful Golem
about five years ago. At that time, once a week I would take my two oldest grandsons, Yarden, (he's called Jordan in the story) and Ziv out for lunch. On one of our lunch dates, Yarden and Ziv hurt my feelings. I decided that instead of wagging my finger at them and making them feel bad I would write about it in a story. They could read the story and understand what they had done. Well, the more I got into the story the bigger it became. I just kept writing and writing. Recently I told someone this. She asked me, "What did the boys do?" I just threw up my hands, because I can't remember.
Did you enjoy writing this book?
I enjoyed writing the story because I enjoy living in Israel and I wanted to create a story that would interest people about Israel. I also had the pleasure of using five of my grandchildren as the main characters. The story actually kind of wrote itself. I would sit down at the computer and begin to write and a lot of the time it was like the characters were telling me what to write. I've spoken to other authors who have had this experience. It's almost like the book writes itself.
Who would you recommend this book for?
I would recommend this book for boys and girls from the ages of 9 to 12. That is the age I picture my characters. I think any kids who are interested or curious about life in Israel should enjoy the book. They don't even have to be Jewish.
Have you loved fantasy yourself?
I wasn't really into fantasy when I began writing the book. However I have become a real fantasy book reader now and I enjoy it a lot. Most of the fantasy books are very well written and have wonderful plots.
Will there be a sequel?
I have now finished the sequel to
Jordan and the Dreadful Golem
. The new book is
Jordan and the Clone Conspiracy
. I hope it will be available sometime in December of this year.
Have a question for Karen or Sydney? Which author would you pick to interview?