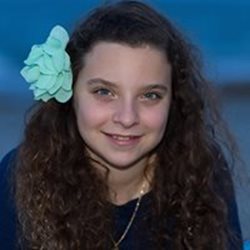 Goodbye and Thank You to the 2015-16 PJ Our Way National Design Team!
These kids worked all year creating videos, reviews, quizzes, polls, and blogs for PJ Our Way.
We asked them, "What did you love about being on the team?" Here is what they said!

Rebecca, 11, Florida

"I liked getting to meet other kids who like to read and I liked being part of the cause of PJOW by putting things on the website and to help kids find books."



Eitan, 10, Washington, D.C.

"I liked choosing the right books for kids. I think that having children make a connection through reading is an important thing."



Anna, 12, California

"I liked being able to make videos and read all the books."





Isaac, 11, Tennessee

"I liked that everyone is friendly and I learned a lot!





Sydney, 11, Texas

"I liked being able to read a lot of books."





Margalit, 10, Pennsylvania

"I got to meet lots of really cool kids and think about the meaning of books and I loved to be creative with the videos."




Madeline, 11, Ohio

"I liked reading new books every month and creating videos and quizzes."




Aidan, 12, Massachusetts

"I really like getting a new book every month. I enjoy reading it and getting to say my thoughts about it."




Sidra, 10, Illinois

"Making videos! That was awesome!!!"





Judah, 10, Ohio

"I like the Design Team because it makes me read more than I usually would."




TEEN LEADER, Zachary, 13, Ohio

"I liked working with the team and I liked the opportunity to be so creative!"






Leave a comment to thank them!

Want to apply for the next national Design Team? Contact Saskia at saskia@hgf.org.