Read the interview with Veera Hiranandani by the Cleveland PJ Our Way Local Design Team.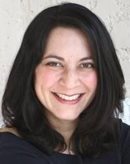 On March 15, 2015, Cleveland's PJ Our Way Local Design Team interviewed Veera Hiranandani, author of The Whole Story of Half a Girl. Thank you to Shira Rosenberg for recording the interview.
Q: What do you like to do in your free time?
A: Cook, exercise, yoga, draw, and paint.

Q: Are some of the people in your book based on people in your life?
A: There are some true things about each character.

Q: How did you come up with the plot of the story?
A: I wanted to write a story about my life.

Q: Did you know what you were going to write before you started the story?
A: I had the main theme and created an outline.

Q: What made you want to be an author?
A: I admired authors – and books were my friends.

Q: How long did it take you to write the book?
A: Two years to write, two years revising and one year to publish.