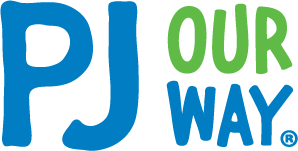 kid
parent
You're now in Kid Mode Parent Mode
PJ Our Way is proud to present How to Be a Mensch, an entertaining, illustrated book that teaches kids useful life skills with a Jewish twist. This title is an exclusive PJ Our Way edition!
When I was 12—the same age my older daughter is now—I scrubbed the copper bottoms of the saucepans my Dad used to cook dinner. I did my own laundry, waxed my Dad's car, unloaded the dishwasher, and weeded the garden.
My girls do not do all of this. (Truth be told, nobody waxes our car because honestly who does that? Sorry, Dad!)
Don't get me wrong—my kids aren't total slackers. They empty their backpacks and lunch boxes every day, set and clear the table at night, put away their laundry, and tidy their rooms. But they definitely don't tackle chores to the same extent I did as a kid.
It's not just our family, either. There's been a generational shift, and for a variety of reasons, kids just aren't helping out around the house in the same way we did. They're busy (or at least they were, before this darn pandemic!) and hardworking, but they tend to focus on schoolwork, extra-curriculars, and social action in a way that we didn't. Oh, and women are working outside of the home more than ever before (or at least we were, before this darn pandemic!), which means there isn't always someone available with the time and energy to demonstrate how to properly load the dishwasher.
But this stuff is important, and our kids need to learn it. That's why I am so thrilled that PJ Our Way is offering How to Be a Mensch as a March selection, the latest book by one of my favorite parenting authors, Catherine Newman. Using her signature wisdom and wit, Newman teaches tweens practical skills for daily living, such as caring for pets, cleaning clothes, and picking up Legos before vacuuming. But Newman goes beyond these basics; she also explores more advanced skills, such as managing money, communicating clearly and politely, and roasting a chicken (a life skill I myself have yet to master).
Best of all, this special PJ Our Way edition has a Jewish twist. The various life skills are couched in the context of important Jewish values, such as visiting the sick (bikur cholim), expressing gratitude (hakarat hatov), and cooking Shabbat dinner.
PJ Our Way readers will love Newman's hilarious writing style and artist Debbie Fong's entertaining illustrations. Parents will be delighted when their kids make challah French toast from scratch and wipe down the counters afterward.
Just don't expect them to wax the car.


Carla Naumburg, PhD, is a writer, clinical social worker, and mother of two PJ Our Way readers. She's the author of three parenting books.